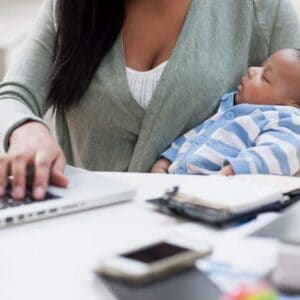 Once your baby is born join us for our weekly New Baby Time program. We are pleased to co-host this program with Blue Heron Midwives during the COVID shutdown.
Join us for a weekly Zoom call every Wednesday from 9:30 to 11 am.
This special drop-in program features different local experts sharing about life with a new baby. Get sleep tips for the whole family, understand baby digestion, learn about postpartum health and recovery for mom, and so much more.
And have a chance to meet other new parents especially when so many in-person programs are no longer available due to the pandemic shutdowns.
Contact us via email and we will share the Zoom link
Fall Presenter Schedule:
November 3 – Parent's Mental Health During the Pandemic with Bronwyn Addico
Mental Health is so important as new parents transition into this new role. During the pandemic, this has taken on even more importance. Join Childbirth Educator and Doula, Bronwyn Addico, to learn the tools that she uses to help her clients during this pivotal time.
Connect with Bronwyn:
Instagram @bronwynaddico
November 10 – Safe & Healthy Sleep for Babies with Better Bedtime Sleep Consultants
Better Bedtime is a full-service sleep consulting organization based in Waterloo Region. Services range from one-on-one programs for infants, children, and adults to corporate sessions for the workplace. During our presentation, we will discuss safe and healthy sleep for babies. Specifically, we will dive into nap strategies, room sharing, and overcoming sleep challenges.
Connect with Better Bedtime:
betterbedtime.ca
facebook.com/betterbedtime
Instagram @betterbedtimesleep 
November 17 – Wholesome Family Health with Naturopathic Dr Joanna Thiessen
I am Dr. Jo, a Naturopathic Doctor in Waterloo, and a mama of 3 awesome kids.  I am passionate about wholesome family health.  Since 2006, I have been empowering families by teaching ways to keep everyone healthy through all the different stages of life.  In my New Baby Time presentation, I share simple tips and tricks to treat all sorts of common health issues that arise in families including gassy babies, skin rashes, stuffy noses, hemorrhoids, milk supply issues, and much more!
Connect with Dr. Jo:
jt@georgestreetnaturopathic.com
www.georgestreetnaturopathicmedicine.com
facebook.com/georgestreetND
Instagram: georgestreetND
November 24 – Music and your Baby with Kerri from KW Moms Club
Join Kerri, the owner of KW Moms Club, in a fun interactive Music time with your baby. We will focus on action songs to bond with your baby and keep your little ones entertained. You are welcome to bring any musical instruments you have at home so your baby can play along!
Connect with KW Moms Club:
WEBSITE
INSTAGRAM
FACEBOOK
December 1 – Breastfeeding Buddies
A "Breastfeeding Buddy" is a caring, committed, and trained volunteer who has breastfed. Buddies provide one-to-one and group support for breastfeeding moms and help connect them with community supports and resources. Learn about what 'normal' breastfeeding behaviour looks like and help deal with some common concerns that new (and/or) experienced nursing mothers may have. Bring your breastfeeding questions!
Connect with Breastfeeding Buddies:
https://www.facebook.com/BreastfeedingBuddiesWR/
http://instagram.com/breastfeedingbuddies
https://www.youtube.com/playlist?list=PLbIqg4COgzfqJmZd2kn5hxA8TIQXrWHnW
December 8 – Postpartum Fitness with Rhonda Chamberlain PT
The common advice given to women when returning to exercise postpartum is "listen to your body", but what does that even mean? There isn't a lot of contexts given with this advice. In addition, with the influx of #fitmom examples online, and the pervasive message to "bounce back" after pregnancy, the pressure to return to intense exercise postpartum can be overwhelming. Learn about your body, and changes to be mindful of when resuming exercise postpartum. And get tools and advice to get back into the activities you love to do in a way that honours your long-term core and pelvic health.
Connect with Rhonda:
www.instagram.com/rhondachamberlainpt
www.rhondachamberlainpt.com
December 15 – Postpartum Pelvic Health with Pelvic Floor Physio Beth Albert Halford
KW Pelvic Health is a physiotherapy clinic that focuses on pelvic health conditions such as incontinence, pelvic organ prolapse, rectus diastasis, painful intercourse and pelvic girdle pain.  The presentation will focus on some of the most common conditions we see post partum that can be resolved with physiotherapy and some guidelines to return to exercise safely after having your baby.
Connect with Beth:
kwpelvichealth.com
Facebook: kwpelvichealth
Instagram: @kwpelvichealth
PLEASE NOTE THERE IS NO SESSIONS OVER DECEMBER 22 AND 29 DUE TO THE HOLIDAYS