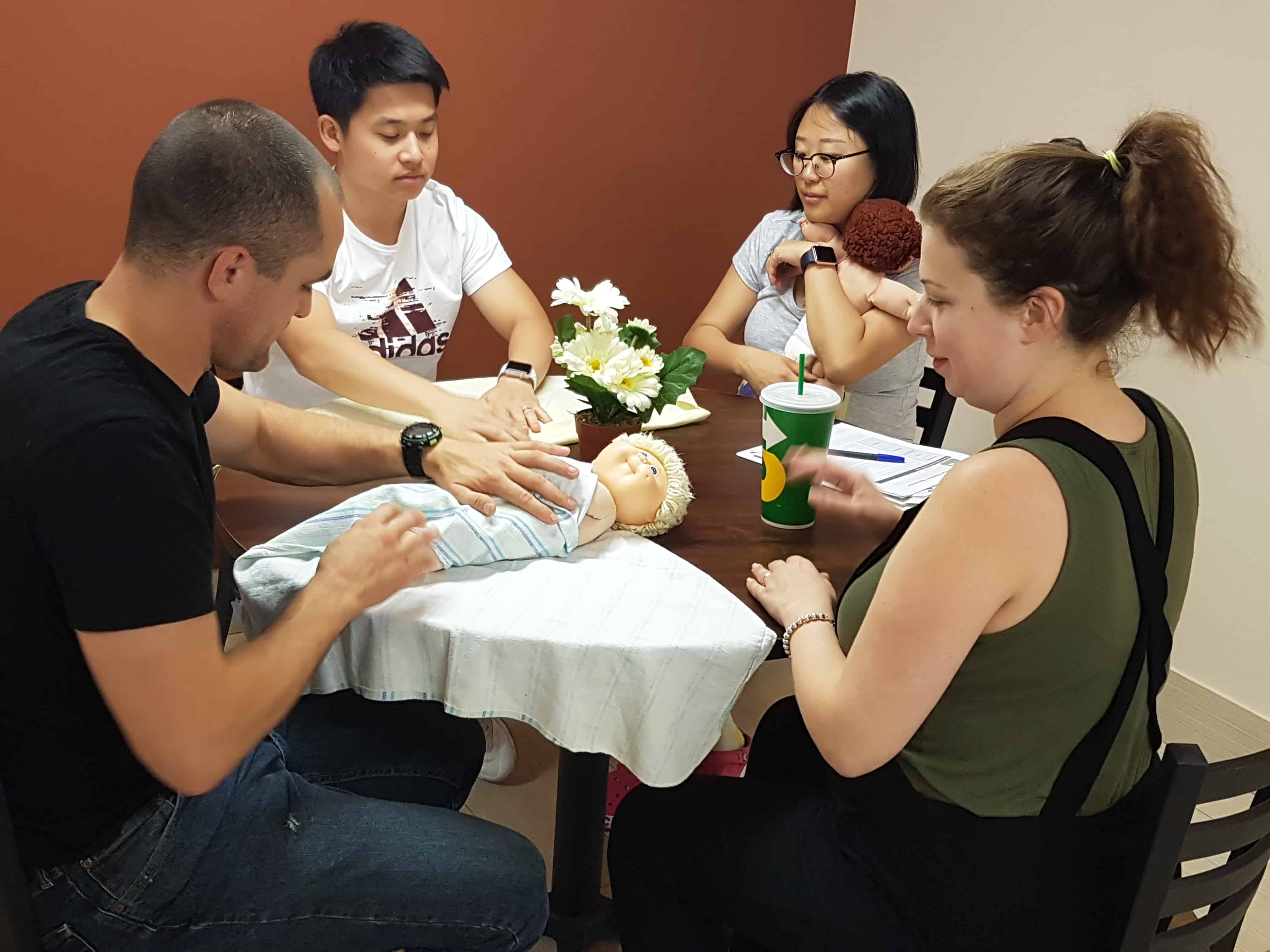 As a labour and delivery nurse I often get asked by friends, family and most of all my patients, "Why should I take a prenatal class?"
This is a question I LOVE to answer. There are SO MANY excellent reasons to take a prenatal education class. I could talk about the benefits of it for hours!
Interestingly enough though, very few people are taking now taking in-person classes. In fact, less than 20 percent of new parents in Ontario take a Prenatal Education course to prepare for birth and parenting.
And this is why…
As a society we have turned to Dr. Google to teach us everything we THINK we need to know…. this is very dangerous! Technology is amazing, but the internet and social media can be a scary place; full of misinformation as well as negative portrayals of birth and parenting. This negativity can easily lead someone astray by heightening fears and anxieties.
Taking a Prenatal Education Class from qualified instructors can make the world of difference to your birth and parenting journey.
According to Best Start Ontario Prenatal Education can:
Provide the information and skills you need to have a healthy pregnancy and baby.
Promote a positive birthing experience.
Prepare you for parenting.
Prepare you for breastfeeding.
Enhance communication between partners about pregnancy and parenting.
And SO MUCH MORE!
Attending a Prenatal Education Class can help prepare you for the physical act of labour and birth. Knowing what is happening to your body is key to help labour progress. It also helps to eliminate the fear and anxiety of the unknown. If you are prepared for what may happen it is a great deal easier to cope with the intensity of labour. It is also invaluable to have good information and understanding of possible obstacles and common interventions that may come along. This helps aid in informed and educated decision making in labour.
Prenatal Education is about more than just labour and birth though. Good prenatal education classes also spend time discussing physical and emotional recovery from birth and what to expect the first few days and weeks. Tips and strategies for problem solving as a couple and maintaining a partnership throughout parenting are also explored. Great classes discuss in depth newborn care and behaviour, which helps you to understand newborn sleep and feeding patterns, and not feel blindsided by the sudden changes in your lifestyle. For example; knowledge of normal newborn growth and development is key to understanding why a baby's days and nights are mixed up AND the purpose of this.
Prenatal classes set the stage for a well-prepared parenting journey. As a labour and delivery nurse I can always tell if a couple has attended a class or not. If they struggle to work as a team in labour. If mom is afraid when of contractions or of pushing. If they grapple with making decisions, or feel overwhelmed if an obstacle presents itself. Couples who don't attend prenatal classes are also more likely to have issues with feeding their baby.
I also truly believe that prenatal preparation can help prevent Birth Trauma. We know that one of the key pieces of the anger, fear, and anxiety in birth trauma is unmet expectations. I believe that the rise in the number of women who report feeling traumatized after the birth of their child is directly related to the decrease in numbers of women who attend prenatal education classes. Setting unrealistic expectations of yourself and your birth sets you up to feel like a failure if things do not go as planned. Having a skilled professional childbirth educator guide you and share the knowledge you need can be the key to preventing trauma. Realistic expectation setting is so very important.

So how do you choose a prenatal class that is right for you?
Choose classes taught by qualified health care professionals.  
There are a variety of class types and options. You can take online classes, series classes, weekend classes, condensed versions and a myriad or mixture of any or all of these.
As a nurse and a childbirth educator I really feel that in person classes support the best learning, provides that you are learning from a qualified instructor.
Group classes offer additional support as group learning can create a fun and dynamic experience in which you can grow together as a group and learn from each other as well as the instructor. I often find participants in group classes bond and maintain connections after the class has completed.
Private classes can be great if your schedule doesn't allow for a fixed day time or if you have a unique situation that you would prefer not to share in a group, such as surrogacy, multiples or a pregnancy following a miscarriage or loss.
Regardless of the type of class you take make sure you are taking it from a reputable company with qualified instructors. Look for classes taught by health care professionals like Nurses or Doulas. You want to learn from someone who can speak to all aspects of birth and be qualified to answer complicated and specific questions pertaining to home and hospital birth. There are lots of classes out there taught by people who are enthusiastic about birth and babies, but don't have the medical and technical background to give you the education you need and deserve.
If you would like to learn more about the Prenatal Education Classes from Balancing from Birth to Baby, click HERE
Love, Maggie