About Balancing From Birth To Baby
Balancing From Birth To Baby is Waterloo Region's premiere childbirth education, and doula provider designed to support families on their journeys as they grow through pregnancy, postpartum and new parenthood.
Balancing From Birth to Baby was born from the dream of wanting to create a supported, cared for birthing-community in Kitchener-Waterloo.
Bronwyn and Maggie are determined to bridge the gaps in prenatal & parenting education, and Doula services available in the Tri-Cities area. Of the utmost importance is offering balanced medical and holistic information so that their clients can make the best decisions for their families.
In addition to the classes and services the company offers, they also teach childbirth preparation classes as part of the Connecting Pregnancy program at Blue Heron Midwives.
"Excellent classes for all knowledge levels. Both Maggie & Bronwyn are amazing teachers with lots of wisdom and skills to offer. They excel in preparing us for the emotional side of childbirth, including how to re-frame fear/anxiety. Balancing for Birth to Baby is really the shining star in birth education."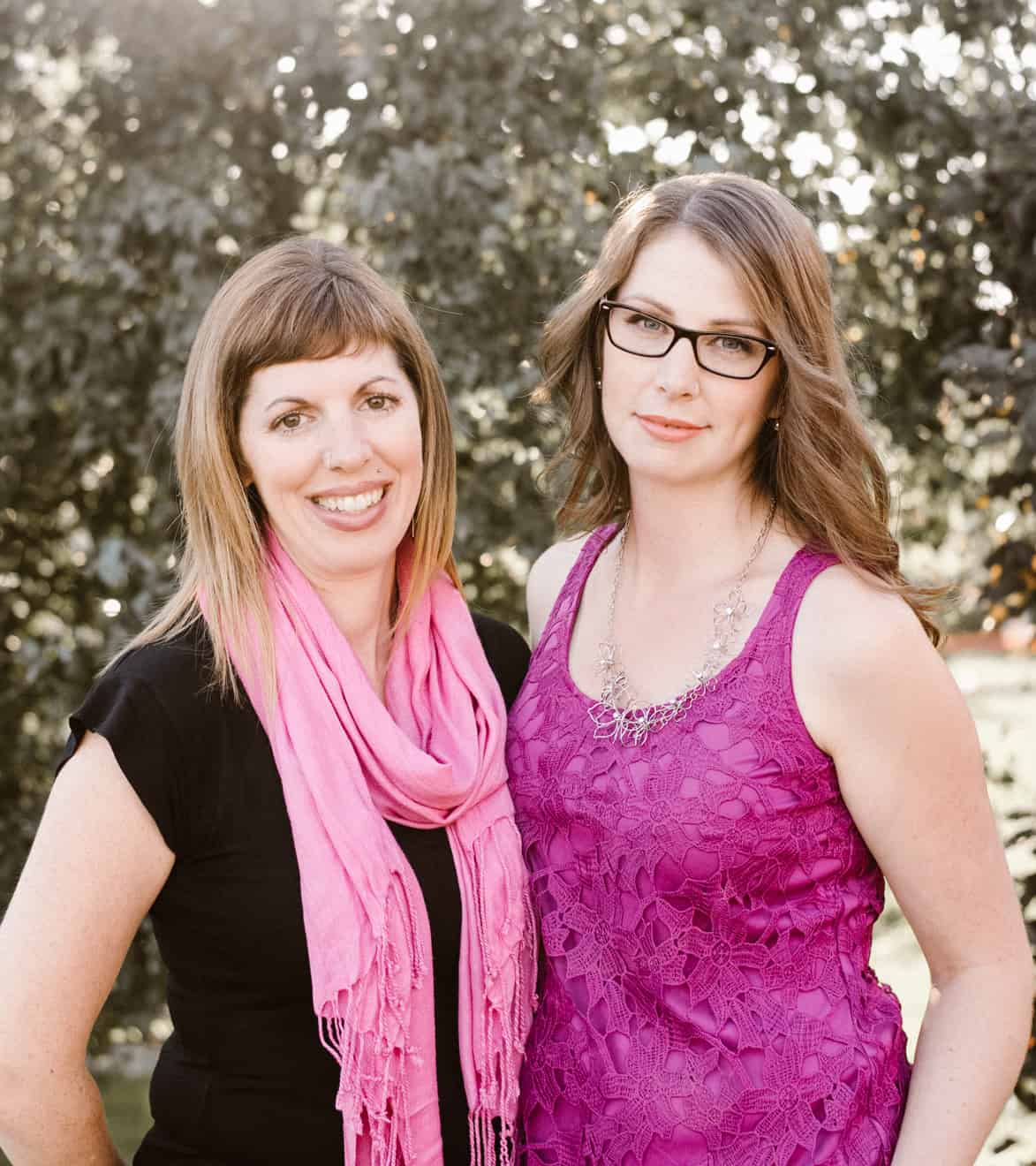 co-founders of Balancing From Birth To Baby
Maggie & Bronwyn met when Maggie was expecting her second child. Bronwyn was the administrator of the midwifery clinic Maggie used. They became acquaintances and then quickly friends. Maggie & Bronwyn bonded over their shared beliefs in the types of care women and families deserve during their pregnancies, births, and after. Their passion as prenatal educators further cemented that bond.
The honest, open dialogue felt very easy going. I learned that there are many ways to get to the end result of a happy healthy baby and many ways to cope with the pain of labour and delivery. I would absolutely recommend your business to others.
The Balancing From Birth To Baby team is made up of experienced, highly educated, and kind people.
Maggie
PN Dip., BScN, RN,
Co-Owner, Childbirth & Early Parenting Educator
Pronouns She/Her
Maggie entered nursing as a career with the intent to help women and their families bring their babies into the world.
Over the last 8 years of her nursing career, she has done so as a labour and delivery nurse, supporting women and their families through the birth process, helping women understand the changes to their bodies, assisting with breastfeeding and teaching families how to care for their infants. Maggie continues to work at our local community birth hospital, supporting the Labour and Delivery program from the IT department.
Maggie has 8 years of Childbirth Education experience helping to prepare families for the miracle of birth through prenatal education. Maggie also teaches maternal nursing courses including Natural Pain Management at a local Community College.
Maggie has two young children of her own, one of whom was born at home, one in hospital. Maggie's unique experience as a nurse and mother, combined with her passion for assisting women to have the most fulfilling birth possible, lends itself to being an excellent educator as she sees the importance of balancing both the holistic and medical aspects of birth.
Bronwyn
Co-Owner, Birth & Postpartum Doula, Childbirth & Early Parenting Educator, Virtual Birth Preparation Coach
Pronouns She/Her
Bronwyn Addico has been fascinated with pregnancy, birth, and babies for as long as she can remember. After the midwife-assisted home birth of her daughter in 2005, Bronwyn became interested in midwifery.
Bronwyn has worked as a prenatal educator in the KW area for many years. After the birth of her son in 2013, she became a certified Dancing For Birth instructor. She has loved sharing the power of dance and its ability to assist women with birth and postpartum healing in our various classes.
In 2014 she embarked on a journey to become a Birthing From Within childbirth mentor and spent time in California in the Spring of 2016 to further her in-depth training. Bronwyn has been deeply influenced by this program's view of birth as an initiation into parenting and how to examine your fears of birth and parenting.
Bronwyn is a single mother to two wonderful kids. She is able to share a wealth of information based on her vast array of parenting and community engagement experiences. Bronwyn looks forward to meeting you and supporting you on your pregnancy, birth, and parenting journey either in one of her classes, a COACHING session or as a DOULA at your birth.
Kathy
Birth & Postpartum Doula, Childbirth Educator
Pronouns She/Her
After the birth of Kathy's second son with the guidance of Midwives, Kathy knew there was something special about the extended care they received.
The experience inspired her to look into becoming a doula. She trained with Doulas Inc. in 2014 and 2015.
"After attending my first birth as a Doula I knew this is what I've been called to do".
Kathy is passionate about birth and newborn care. Kathy works with the unpredictable nature of birth by offering suggestions and guidance throughout the labour process. As a Postpartum Doula, Kathy is well equipped to personally tailor the needs of the families she supports.
Kathy has taken subsequent training with Still Birthday to become a stillbirth doula as well.
Kourtney
RN, Birth & Postpartum Doula, Childbirth Educator
Pronouns She/Her
Kourtney has always loved babies. When she became pregnant with her first, she fell deep into the world of birth and knew that her calling was to help others through the biggest changes of their lives.
As a Registered Nurse, she is fascinated by the human body and in complete awe of what the female body is capable of. She feels that birth is so much more than a physical experience.
Kourtney loves that, as a doula, she can help families to feel confident, connected, and supported during such a vulnerable and wondrous time. The moment when a new person is added to the world is a once in a lifetime experience and she is honoured each time a family allows her to be a part of it.
Anna
Birth & Postpartum Doula, Childbirth Educator
Pronouns She/Her
Anna Kuepfer Wright has been fascinated with birth since her brother was born at home when she was 4 years old. 
Anna began university with the goal of pursuing healthcare for women and soon became interested in midwifery, leading her to volunteer at Blue Heron Midwives where she met Bronwyn.
Soon after, Anna volunteered in a remote village in Uganda, shadowing a midwife. She was privileged to breathe with women through their first or tenth unmedicated births in the village, hold women's hands through cesarean births in the nearby city, accidentally discover twins' heartbeats using a wooden fetoscope, and learn to navigate the balance between tradition and medicine.
Anna returned to Canada to find that this birth support role had a name - Doula - and immediately enrolled with Doula Training Canada. Anna completed her BSc in Health Studies, a program that brings together science and the social. 
Sarah
Birth & Postpartum Doula
Pronouns She/Her
Sarah began her career as a doula in Aug 2019 after completing her training with Doula Canada. Sarah has completed her labour and delivery certificate, and postpartum certificate, as well as birth trauma, breastfeeding support, and Finding Your Center certifications.
Sarah's love for children began at an early age and has lasted as long as she can remember, from babysitting to running a home daycare after the birth of her daughter. Sarah also works as an educational assistant with the WRDSB.
After the birth of her son, Sarah's passion for birth work became a reality. From her experiences, Sarah knew that she wanted to be able to support others in their pregnancy journey. After attending her first birth she knew that she had found her calling.
Sarah's goal as a doula is to help families feel connected to each other and to help them feel the confidence they need to have a positive birthing experience. Sarah is thrilled to be able to hold space with you while you enter parenthood.
Shweta
PhD (Ayurveda), Birth & Postpartum Doula
Pronouns She/Her
Vaidya Shweta, PhD (Ayurveda) is a Doctor of Ayurvedic Medicine trained in authentic Ayurveda from esteemed Universities in India. She offers training in Ayurveda along with consultations in Canada and around the globe.
Becoming a doula was a natural evolution in her Ayurvedic work supporting women and families through the journey of pregnancy, childbirth, and newborn care.
Shweta has completed her Doula training with DONA International. She has also trained and volunteers with the Breastfeeding Buddies program in Waterloo Region.
Shweta has extensive newborn care experience, in particular premature babies, multiples, breastfeeding, sleep, reflux, and colic. She also has extensive experience in Ayurvedic postpartum massage using Marma therapy.
Since becoming a mother Shweta's passion for caring for babies and aiding couples through the parent transition has only increased.
Her dream is for every birthing person to feel supported and loved during this special time. She looks forward to supporting you and your family through the birthing journey and the new life you are about to experience.