Taking time to prepare nutritious and comforting freezer meals before your baby arrives can be a huge advantage in those first few weeks of postpartum.
Settling into a new routine with a baby is a time of great joy but it can also feel overwhelming. You probably won't want to spend too much time thinking about cooking or meal prepping.
You will also want to plan for other stresses that can occur postpartum and try to minimize them as much as possible. Our 4th trimester guidebook will help you create a well thought-out plan for this time so you can get the rest you need to recover from birth and bond with your baby.
We've put together a list of some simple and nutritious recipes that are perfect to keep in the freezer and reheat whenever you need a quick nourishing snack or meal.
Freezer meals are ideal because they're going to save you time and energy. Not to mention prevent unnecessary stress, so you can spend more time with your baby in these precious first weeks!
Having a variety of nourishing meals on hand is also going to ensure your body is staying fueled and getting the nutrients you need to help you recover after giving birth, especially if you are breastfeeding.
With that in mind, we've chosen a variety of recipes that are not only nutritious and packed with fibre, but are also delicious, filling, and family-friendly.
These recipes are also super versatile, and cater to multiple dietary restrictions and preferences, so you can work with what you have in your kitchen.
Whether it be breakfast, lunch, dinner or a snack, we're positive you will find a recipe in this list that satisfies your cravings.
Our Freezer Meal Picks for Postpartum Meal Prep
Red Pepper Egg Bites (Starbucks Copycat Egg White Bites)
If you love Starbucks egg white bites, you'll love this Red Pepper Egg Bite recipe from The Balanced Nutritionist . It's the perfect savory breakfast to start your day off. With a delicious combination of cheeses, this recipe is high in protein and easy to make in batches to freeze for later.
2. Oatmilk Pancakes
If you prefer a sweeter breakfast, these fluffy Oatmilk Pancakes from The Kitchen Invitation are a delicious and wholesome option. They are super versatile, providing the perfect base to add all your favorite toppings. Enjoy as a dairy-free option or easily substitute any milk or milk alternative you prefer. This recipe also recommends adding shredded carrots to the batter for a boost of added fibre! Perfect for freezing ahead of time for a healthy grab-and-go option.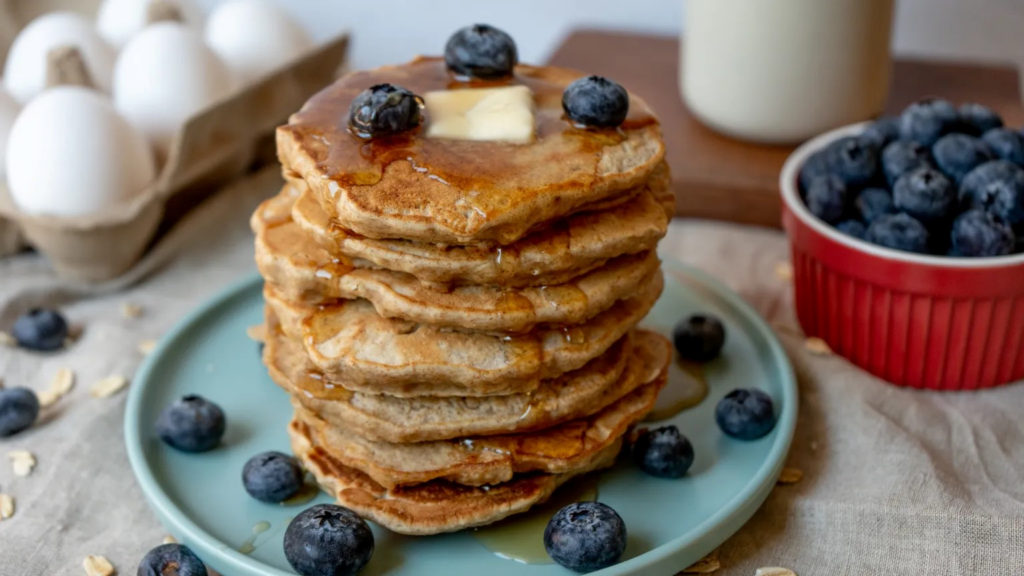 Pumpkin Cookie Dough Bites
These Pumpkin Cookie Dough Bites from The Healthy Epicurean are the ultimate combination of protein, fibre, and healthy fats that create a snack that is delicious and nutritious! Quick to make and even easier to freeze and enjoy later.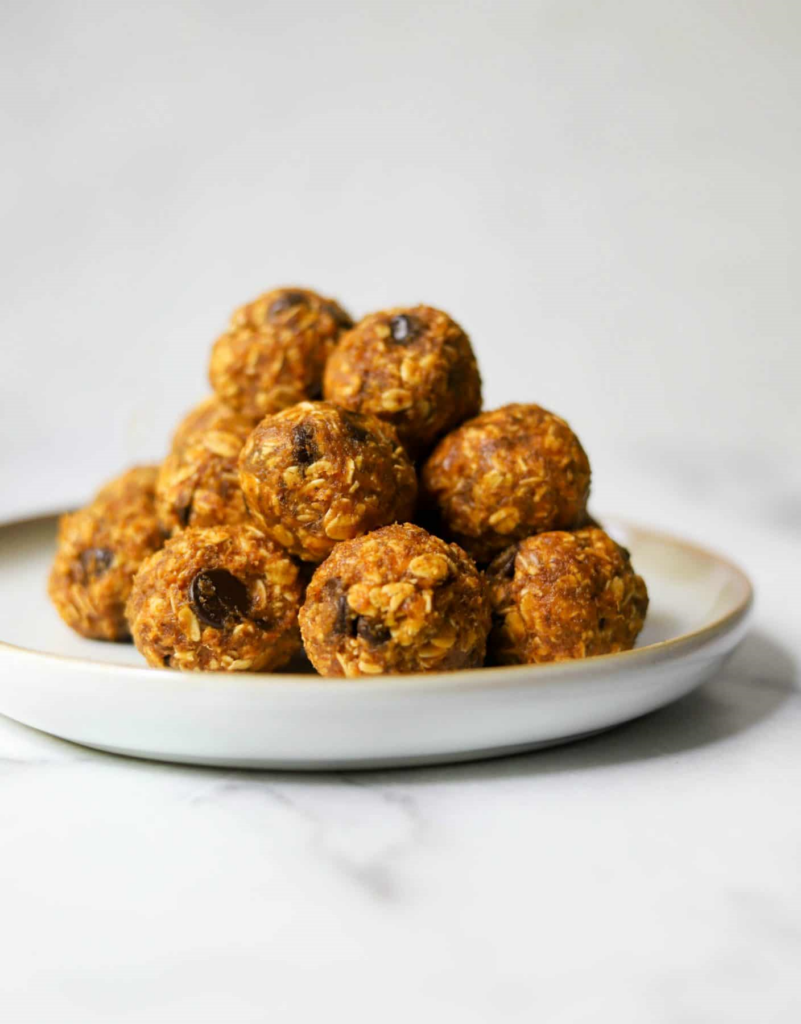 Banana Blueberry Oatmeal Muffins
These Banana Blueberry Oatmeal Muffins from Christina Iaboni are a must try! A nutritious source of whole grains, fibre and antioxidants, these muffins are a great choice over store-bought muffins that tend to be higher in refined sugar and flour. Make a double batch and keep in the freezer for months. Simply pop one in the microwave when you want a nutritious snack.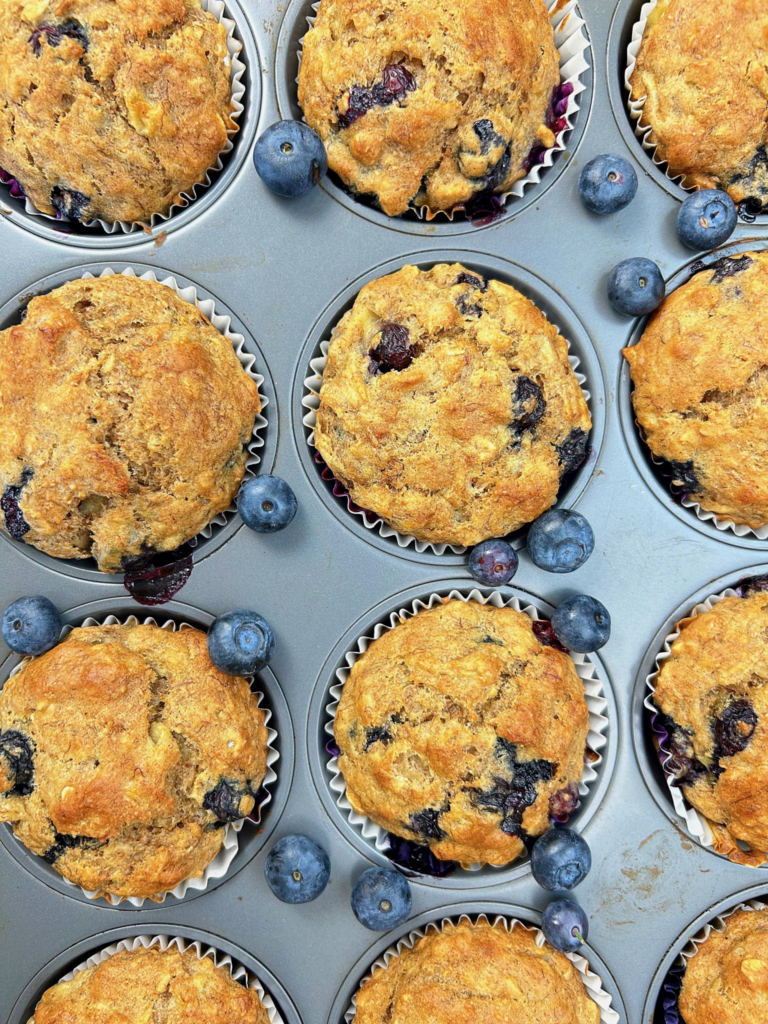 Apple Oatmeal Bake
For a simple and delicious twist on regular oatmeal, this Apple Oatmeal Bake recipe from Carrots and Cookies will provide you with breakfast for days. High in fibre and made from simple ingredients you likely already have in your kitchen, this recipe only takes 10 minutes to prep! You'll have this oatmeal bake ready to freeze in no time.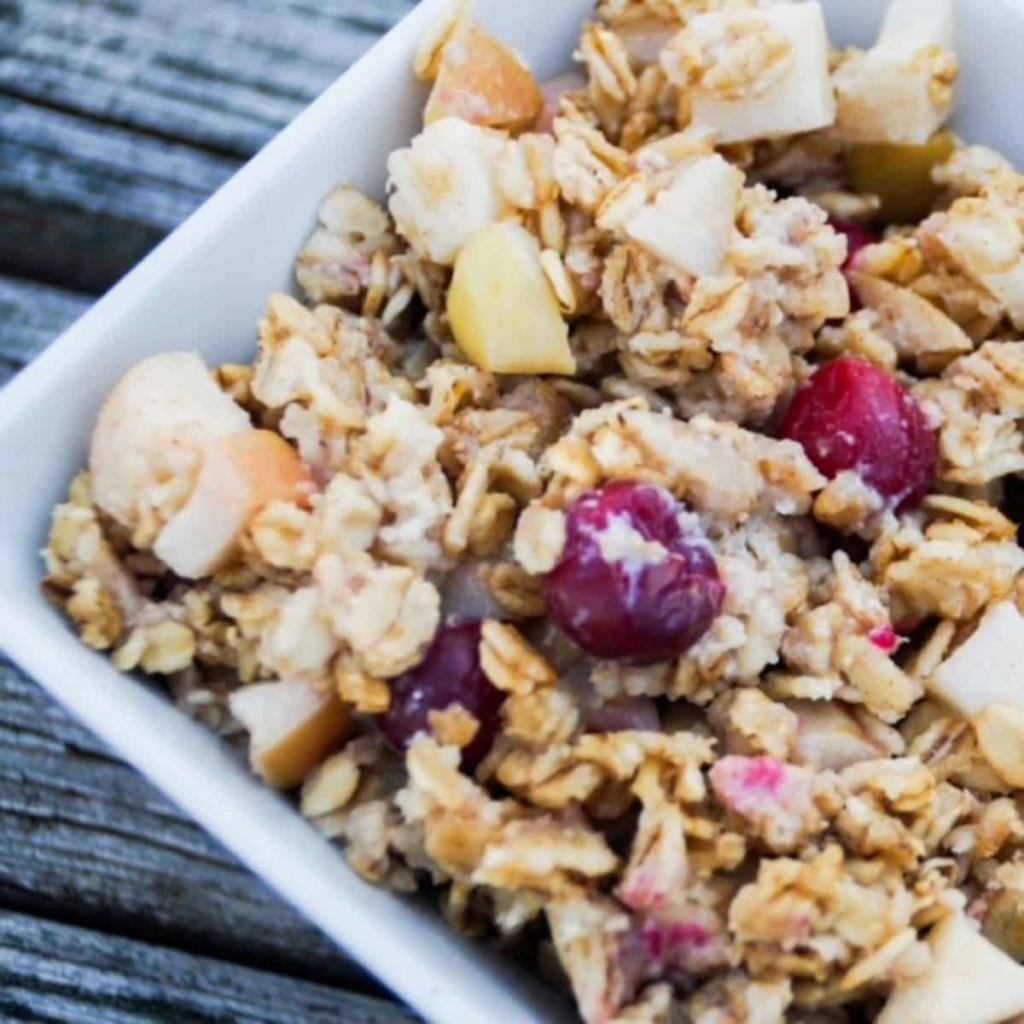 High Protein Chili
This comforting High Protein Chili recipe from Haute and Healthy Living is the perfect staple to have on hand. Simply toss the ingredients into the slow cooker and let the work be done for you. Then easily freeze for up to 6 months. This recipe is non spicy, but you can easily adjust the heat to your liking!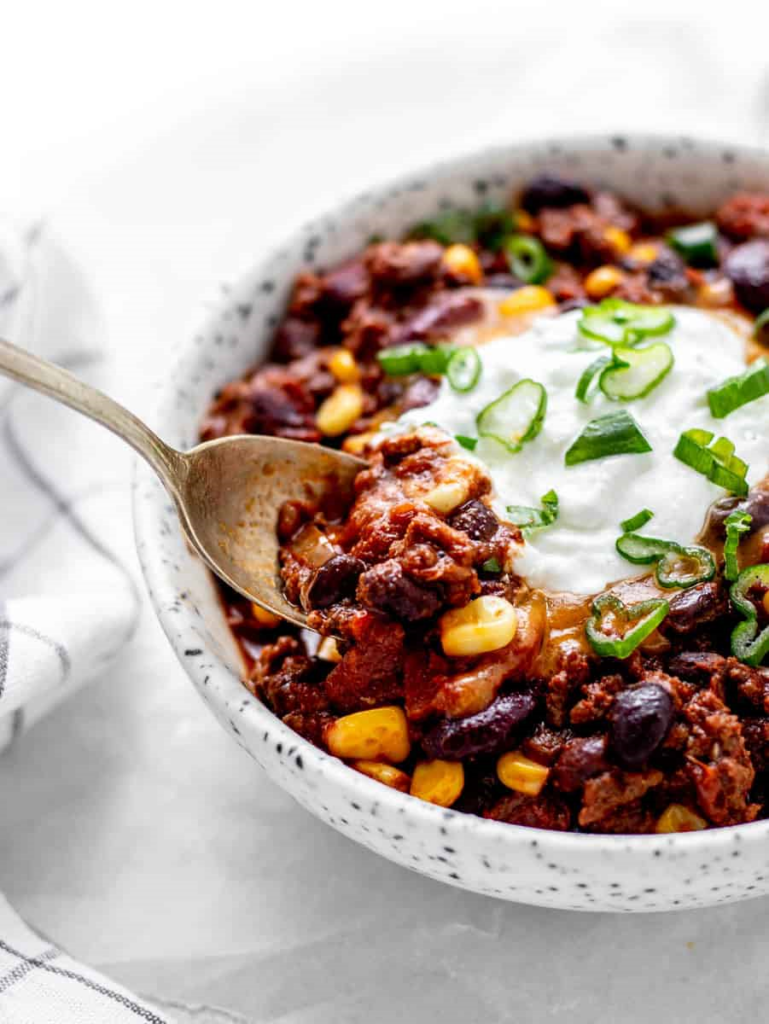 Easy Vegan Slow Cooker White Bean Chili
For a vegan and gluten free chili alternative, you will love this Easy Vegan Slow Cooker White Bean Chili from Easy Chickpeasy. This recipe is full of fibre and is so simple. You don't even have to do any slicing or dicing prep! And you can customize it with all your favorite toppings.
Boiled Dumplings with Juicy Snow Pea Leaves and Shrimp
Whether you're an experienced dumpling maker or have never made dumplings before, you are sure to enjoy these Boiled Dumplings with Juicy Snow Pea Leaves and Shrimp from The Sound of Cooking. A light and flavourful recipe with step by step instructions and a cooking video included. Easily freeze these dumplings and when you're ready, simple cook them in boiling water straight from the freezer.
Instant Pot Vegan Chinese Curry RECIPE (Gluten-free, Healthy)
This incredibly versatile and gluten free Instant Pot Vegan Chinese Curry from One Pot Wellness can be made in less than 30 minutes! Use any vegetables you prefer or have on hand in your kitchen, and simply add everything to an instant pot. This is a recipe you can come back to time and time again for a quick and nutritious meal that's perfect for freezing.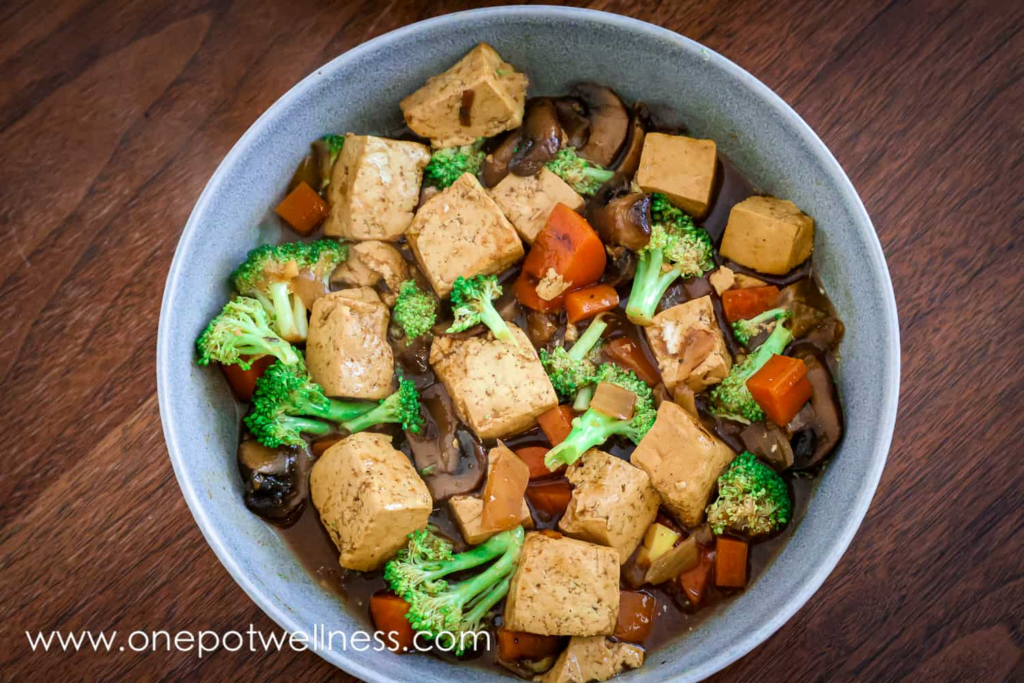 Instant Pot Gluten-Free Lasagna Soup (Quick and Healthy)
A twist from your typical lasagna dish, this Instant Pot Gluten-Free Lasagna Soup from One Pot Wellness combines two of the most comforting dishes into the ultimate hearty meal. This recipe is high in dietary fibre AND has multiple tips to accommodate your taste preferences, showing you how to add in extra vegetables, protein sources or spices. It comes together in no time, and can be easily frozen to enjoy later.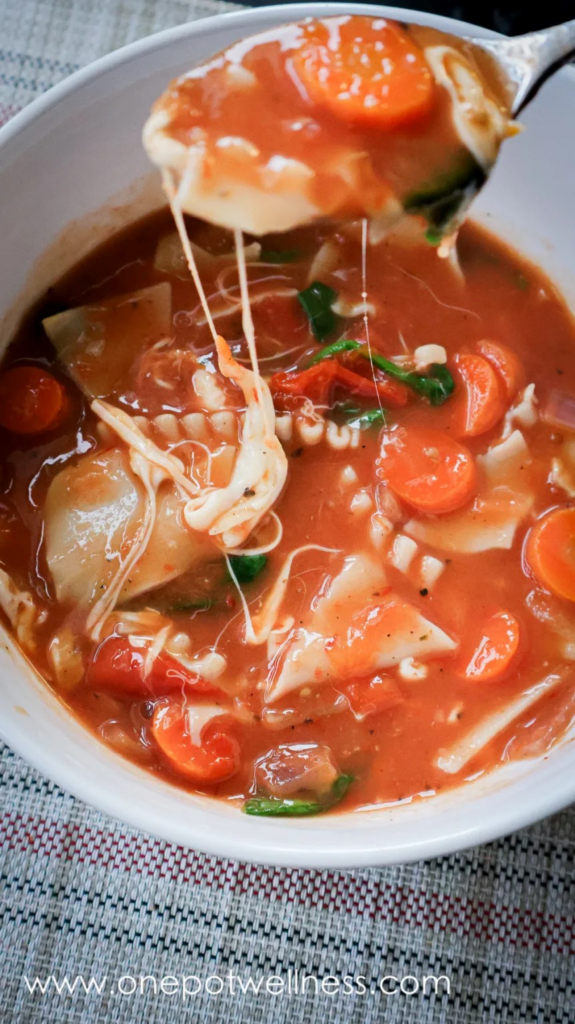 Sweet and Savory Sweet Potato Toast
This Sweet and Savory Sweet Potato Toast recipe from Malina Malkani Nutrition is simple, fun AND nutritious! Whether you prefer sweet, savory or both, the sweet potatoes are flexible for an endless possibility of colorful and delicious toppings. Sweet potatoes are a great source of fibre, vitamins, minerals and antioxidants! You can easily make this recipe in advance and freeze for later. Then when you want some sweet potato toast, simply pop it into your toaster oven and add your favorite toppings!
Easy Chicken Rice Soup
This Easy chicken rice Soup recipe from Melissa Mitri Nutrition is a nourishing and comforting staple, made using simple ingredients you likely already have in your kitchen. Let the warm and cozy aromas of this recipe fill your house for hours. There will be plenty of leftovers to freeze for later!
Having a baby is an exciting time but it also a big adjustment. You probably won't have the time or energy to cook much in the early days and weeks postpartum.! Preparing some tasty and nursing meals before baby arrives will make things a bit easier and allow you to have more time to rest and enjoy all those newborn cuddles you can get.
Don't forget to plan for all the other aspect of having a new baby, grab your copy of our 4th trimester guidebook here.